Termite Control Is a Necessity
Thinking you have termites? They may be small, but they are powerful. Termites are the most destructive pest you'll never see, small enough to get into almost anywhere and wreaking havoc with their constant chewing. By remaining hidden within your walls, they can chew tunnel after tunnel through the wooden structures of your home or business, weakening the structural integrity to the point of making your property unlivable.
Making matters worse, termites are known as the "invisible invaders" of the pest world. Because so much of the damage they create occurs within the walls, floors, and foundations of structures they infest, it can be months or even years before you realize a problem exists. By the time you realize you have termites, you could already be looking at thousands of dollars in uninsured damage.
Protecting against termites is vital to the safety of your home or commercial property. Luckily, with help from AMCO Pest Solutions, the process of protecting your property from termites has never been easier or more effective.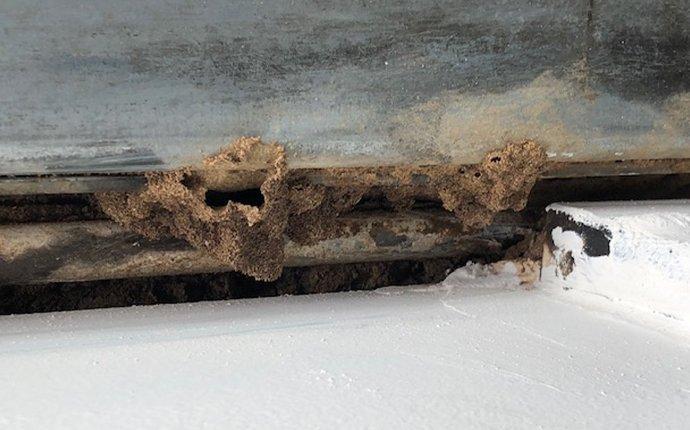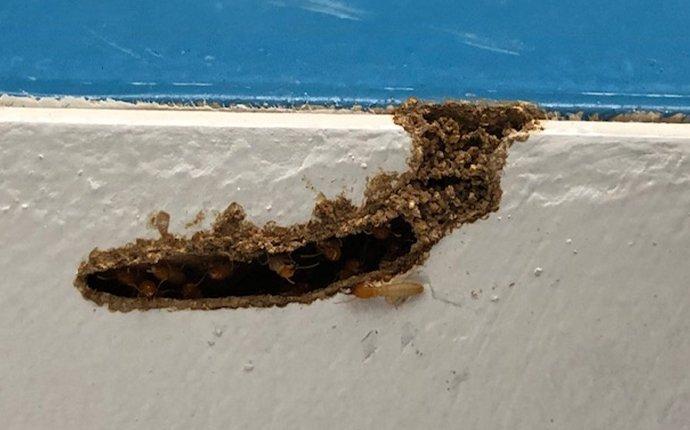 Our Termite Control Offerings
Free Inspection
The identification of a termite infestation is difficult for anyone not trained in spotting the subtle signs of their presence. AMCO Pest Solutions will send one of our pest control specialists to your home or business, to inspect for any signs of termite activity. Our inspection is thorough and includes both the interior and exterior areas of your property.
Treatments
Based on the findings of our inspection, we'll recommend a course of treatment to eliminate active termites and prevent them from getting into your home or business in the future. Active infestations get treated with a conventional liquid termite treatment that we also use as a preventative treatment.
If termites are not currently active on your property, we'll suggest the installation of a termite baiting system. We install bait stations in the soil around the perimeter of your property. When termites take the bait, they bring it back to the other termites, destroying the entire colony. We utilize both Termidor and Advance® Termite Bait System to effectively eliminate Termite Infestations, with the primary mission of protecting your home.
Our termite treatments come with a one-year, renewable warranty. You can also prepay this warranty for several years at a discounted rate.
Professional Protection With The Advance® Termite Bait System
Amco Pest Solutions is proud to offer our clients the Advance® Termite Bait System to control and prevent termites around their properties.
The most advanced termite control system on the market, Advance® Termite Bait stations feature dual-stage, low-disturbance interior design that makes it more effective than other stations in two key ways: they provide two unique food sources to attract the highest potential of termites to each station, and their low-disturbance design leads to less termite abandonment. In effect, this means that more termites are attracted to the station and the ones that come absorb more of the bait inside, leading to quicker and more efficient distribution of bait throughout each termite colony.
While this revolutionary design leads to quicker elimination of active termite presence, the Advance® Termite Bait System is also specifically designed to create a long-term barrier around your property against termites. Bait systems are placed strategically around your home, giving it 360 degree protection no matter where termites might be coming from. If soil is inaccessible, concrete bait stations are also available to ensure that no gaps exist in your home's protective termite barrier.
If termites are present around your property, installing the Advance® Termite Bait System ensures they won't be for long - and they won't be coming back.
Why Trust Amco Pest Control For Termite Protection
At Amco, we've been protecting homes and businesses from our very inception, almost a century ago. Founder Dr. Arthur Williams began using his Ph.D. expertise in chemistry to treat wooden timbers to protect them against wood-destroying insects. In the time since, we have become an industry leader in developing and implementing the best emerging technologies toward treating and preventing termites and other wood-destroying organisms.
We are a family owned and operated company, and we protect your home like it was our own. We know the pests that inhabit the area, and our technicians are specifically trained to combat them using only the best tools at their disposal. As a QualityPro Certified pest control company, we have proven to be the best of the best at what we do. No one knows termites better, and no one can stop them faster or more effectively.
If you're ready to protect your property long-term from destructive pests like termites, don't wait: contact us today!
Frequently Asked Questions
Schedule Your Free Inspection
Complete the form below to schedule your no obligation inspection with Amco Pest Solutions.