Our Response To COVID-19 For NJ/NY & FL Property Owners
Our founder, Arthur Williams, built Amco on his knowledge of chemistry, and used his Ph.D. to protect wooden timbers from wood-destroying insects. Today, that history serves us, as we serve our customers. In today's world, we know the importance of keeping clean, disinfected surfaces in homes and businesses. That's why, at Amco, we are prepared to disinfect a variety of surfaces within homes and businesses to ensure a safe environment for all.
At Amco Pest Solutions, our highest priority is always the health and safety of our customers. Despite our new circumstances due to COVID-19, nothing has changed in that regard. We are still 100% committed to your health and safety. However, we have made some changes to the way we operate and want you to be aware of what we're doing to continue to protect your family or business from pest threats while also preventing the spread of coronavirus.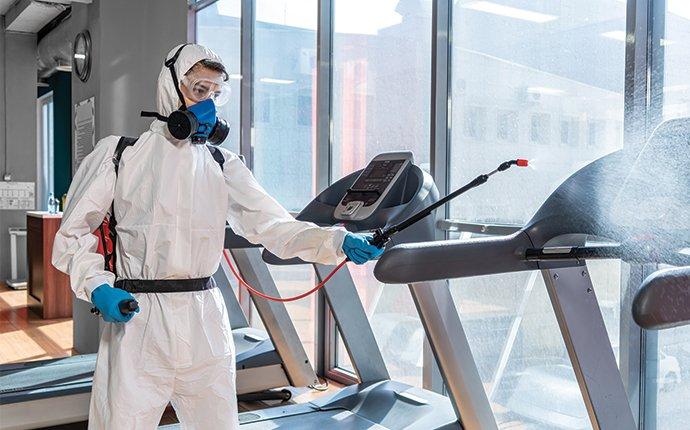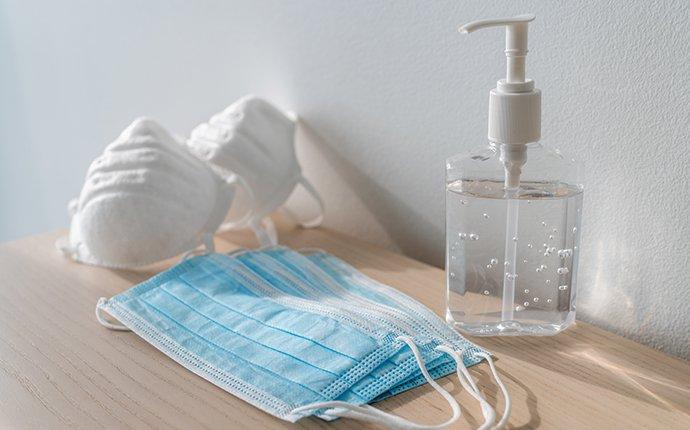 Our Disinfecting Procedure
At Amco, we utilize a disinfectant known as Nisus DSV. Nisus DSV is a broad-spectrum disinfectant, sanitizer, virucide, mildewstat, fungicide, and deodorizer that is labeled to kill 31 strains of bacteria and 19 different viruses. It is labeled to kill pathogens including Human Coronavirus, Hantavirus, Hepatitis B Virus, Hepatitis C Virus, and Influenza A, among others. It effectively disinfects residential and commercial sites of possible labeled viruses and bacteria. Nisus DSV has a pleasant citrus scent, so your home or business will smell pleasant as well as be clean!
Nisus DSV can be used with both misting applications as well as a hard-surface wipe down with a cloth. The method of treatment will be dependent on the scale and surfaces in the area that is being treated. Regardless of the treatment method, you can be assured that Amco will provide the highest level of care!
Whether you are looking for a one-time cleaning or a routine disinfectant service, we will work with you to determine a plan that best fits your needs. Our technicians will evaluate high-touch surfaces and thoroughly disinfect those areas within your home or business. Soon after treatment, you can return to the space knowing that it has been thoroughly disinfected with care.
How To Prepare For A Service
While our technicians do a thorough job of disinfecting, there are certain steps that should be followed prior to service. The more organized a location is, the easier it is to conduct a proper treatment.
Before service, please do the following:
Remove obstacles and trip hazards from the location.
Remove pet water and food bowls.
Cover fish tanks with cardboard or a wet blanket.
Secure food and utensils away in protected areas.
Remove any objects that could be damaged by moisture, such as artwork or paperwork.
Ensure all people and pets are out of the treatment area for the duration of the service.
While we disinfect the surfaces in and around the treatment location, we cannot ensure that objects brought back into the room are properly disinfected. Please be aware of cross-contamination that may occur when reentering the room. If surfaces are still wet 10 minutes after service, dry them with a paper towel and dispose of immediately.
The Measures We're Taking To Ensure Your Safety
We want you to feel completely secure contacting Amco Pest Solutions for pest control during these uncertain times. In order to ensure your safety, rest assured that we are abiding by all state mandates and CDC recommendations to protect you and your family.
Some changes to our normal practices that we want to make you aware of include the following:
We will no longer come to your front door prior to starting treatment. Instead, we'll contact you by phone to let you know of our arrival. The exception to this is if we need to perform an interior treatment. In that case, we'll need to come inside, but will practice safe social distancing measures while there.
We ask that you keep your family indoors during our exterior treatments for their safety.
If you see a pest in your home, please take a picture of it and send it to us. If we can identify pest problems by phone, we can take appropriate treatment measures with the least amount of contact necessary.
We Are An Essential Business In NJ/NY & FL
Amco Pest Solutions is considered an essential business in all three of the states in which we operate. New Jersey, New York, and Florida governments, as well as the Department of Homeland Security, have all deemed pest control companies an essential business that may continue to operate during the shutdown.
The reason for this is clear: Many pests carry and spread dangerous pathogens that can cause illness. If you experience a pest infestation during the shutdown, you need to have it taken care of by trained professionals in order to protect your family.
We Are Here For You!
As always, if you have any questions or concerns, please feel free to contact us. We know this is a difficult time and we will do everything in our power to make it a little bit easier for you. We thank you for your continued support!
Schedule Your Free Inspection
Complete the form below to schedule your no obligation inspection with Amco Pest Solutions.
Affiliations & Accreditations