Garfield, New Jersey Pest Control
Located just inside Bergen County, the city of Garfield is one of the busiest bedroom communities in New Jersey. Approximately 30,000 residents currently live within the city, which is rapidly growing by 10% per year. Named to honor the late President James Garfield, this bustling area of community and infrastructure was affectionately named the "City of Champions." Today, the home and business owners of this area enjoy spending time downtown, shopping along Passaic Street, or sitting by the Passaic River.
Growing areas often experience many kinds of changes associated with their expansion, both good and bad. Part of this includes a rise of pest activity, which is a natural part of any localized expansion. Rodents, mosquitoes, bed bugs, and termites are all becoming much more common in and around Garfield city. To prevent their spread and to control their populations, property owners in Garfield rely on the innovations of Amco Pest Solutions. For more than 80 years, we have been helping local home and business owners get their pests under control. Call today to learn more about the programs we offer.
Home Pest Control In Garfield, NJ
At Amco Pest Solutions, we take pride in the ways we help Garfield homeowners stay pest-free. We have committed to offering our clients more than just products for 80 years and counting, and have built a reputation that allows us to serve you better.
Here's why you should choose residential pest control plans from Amco Pest Solutions:
We offer emergency and same day services
We offer low-impact treatment options to protect children, pets, and vulnerable populations
We are always on the cutting edge of innovation
Learn more about what we can do by calling Amco Pest Solutions now.
Garfield Property Owner's Guide To Bed Bug Prevention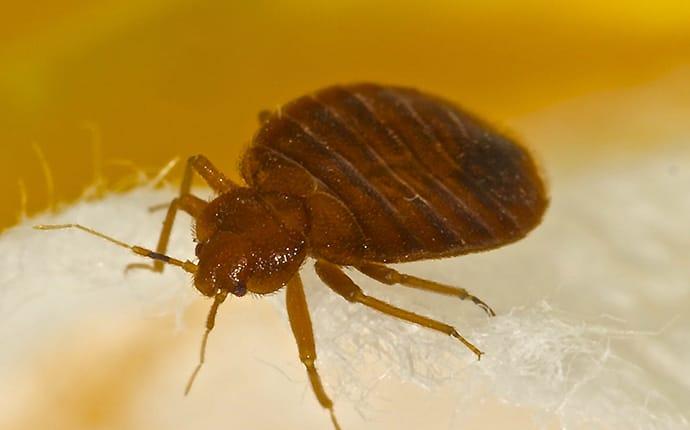 Bed bugs are pests that are becoming increasingly difficult to control. After almost being eradicated in the mid-1900s, bed bugs have experienced a recent population boom. DEET and other harmful chemicals were banned by governmental legislation to protect people, pets, and their families. Unfortunately, this well-meaning act has allowed pests to regroup and redeploy, infesting homes and businesses all over New Jersey.
To help protect your Garfield property from the threat of latent bed bugs, follow these bed bug prevention steps:
Ensure that you thoroughly wash and clean all clothing items after returning from a trip. Turn your washer and dryer to their highest heat settings, and run your clothing slightly longer than usual. This will eliminate both adult bugs and their eggs.
Store your luggage and all packed bags off the floor while you travel. If these cannot be stored away, consider holding them on your lap, or placing them high off the ground.
Do what you can to inspect your overnight lodgings for signs of bed bug activity. Any red or brown spots, sweet scents, or egg casings will be a clear indication to leave immediately.
If you are still concerned about the possibility of bed bugs around your Garfield home, there is still hope. Contact Amco Pest Solutions to book an initial bed bug inspection right away.
Five Tips To Controlling Termites In Garfield, New Jersey
The most vicious type of wood-eating pest in Garfield is likely the eastern subterranean termite. Although these pests cannot bite or scratch humans, they will certainly be able to make a dent in their personal property. Termites eat through the wood to build a home for their larvae and do not require rest or sleep like other animals. This allows them to consume wood and other wooden products 24 hours a day, 365 days a year.
Below are five helpful tips for controlling termites, specifically for property owners in Garfield, NJ.
1. Eliminate as much soil-to-wood contact around the home as possible. All areas of mulching should be replaced with peat stone or crushed gravel.
2. Firewood should be kept away from the home, and stacked in proper rows.
3. Have the wood in your home pre-treated against termite activity.
4. Cut back on the amount of moisture present inside the house. Use a dehumidifier to reduce humidity in chronic spaces, and desiccant bags to reduce moisture in small rooms or closets.
5. Employ the team at Amco Pest Solutions to establish ongoing termite control for your property.
Call Amco Pest Solutions today to schedule a termite protection plan, and get a quote for your Garfield property.
Commercial Pest Control In Garfield, NJ
Businesses all over Garfield, NJ trust Amco Pest Solutions to care for their properties well. Today, our team offers complete commercial pest control plans to each of the following industries:
Restaurants and food services
Daycare, childcare, and school systems
Warehouses and manufacturing buildings
Amco Pest Solutions has a commercial pest control plan perfect for your business. Get started on a plan that's right for you by submitting an online contact form.
Schedule Your Free Inspection
Complete the form below to schedule your no obligation inspection with Amco Pest Solutions.