Hackensack, NJ Pest Control
New Jersey's Hackensack city serves as the county seat for Bergen County. This metro area was known to residents as the 'New Barbadoes Township' for many years until its nickname of 'Hackensack' eventually took over and became its new moniker. Hackensack is a midtown suburb of New York City and is less than 12 miles away from some of the Big Apple's busiest streets. Today, property owners in Hackensack appreciate a lower cost of living compared to their sister city and enjoy views of the NYC skyline from their homes and businesses. Manhattan Island isn't just visible from Hackensack, however.
In fact, many of the aspects of New York City are physically evident in this burgeoning community, especially ongoing battles with pests. Rodents, cockroaches, and termites are all potentially dangerous vermin species that are common to the area and are quickly spreading throughout Hackensack. Amco Pest Solutions makes it easy to defend your home, offering pest management plans for any kind of local property. From mammals to insects to wildlife species, we have your property covered – no matter what. Speak to a representative about your options by submitting an online contact form.
Home Pest Control In Hackensack, NJ
Residential pest control plans from Amco Pest Solutions innovate a new way to be pest-free without putting your health at risk. We specialize in cutting-edge projects and services that work together to create a holistic, healthier home.
Below are just a few of the benefits that come with our residential solutions:
12-month pest protection
Plans covering more than 30 pests
Services for interior and exterior locations (upon initial visit)
Put your Hackensack home into the care of true professionals. Book an initial residential pest control service with Amco Pest Solutions right away.
Do Cockroaches In Hackensack Carry Diseases?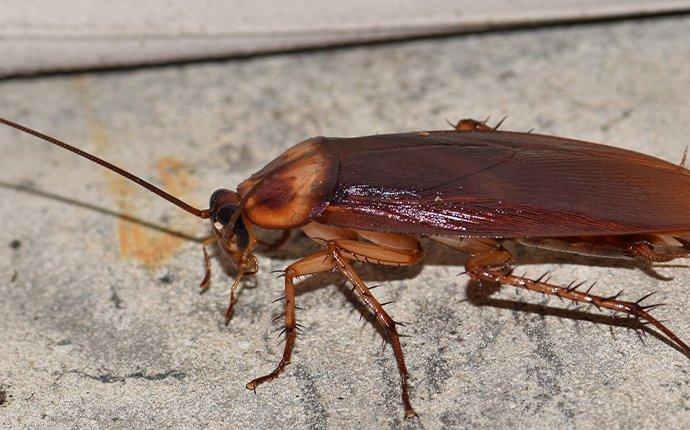 All roaches carry some sort of pathogen from place to place. The ones found in Hackensack are no exception. While it may be easier on both your stress levels and your family to ignore the presence of roaches in the home, these insects are not animals that should be intentionally forgotten. If allowed to grow and thrive, cockroaches can spread the following illnesses around the house:
Salmonellosis
Typhoid fever
Cholera
Gastroenteritis
Dysentery
Listeriosis
Giardia
E.coli infection
Unfortunately, it is not easy to prevent cockroaches from entering your property. In a dense and nearly overpopulated area like Hackensack, these insects are bound to spread from apartment to town-home to household, all without stopping. Your best bet in preventing ongoing cockroach issues is to invest with a year-round plan provider, including Amco Pest Solutions.
We bring our A-game to every treatment session by creating an environment that is hostile to pests, yet still safe for your family. Learn more about the methods we use by calling today.
How To Prevent Termite Damage On Your Hackensack Property
Wood-eating insects are always a problem around New Jersey properties, particularly Hackensack. Termites are arguably the worst of the bunch and are known for being particularly vicious in residential environments. Without a need to sleep, eat, or rest, termites can quickly devour the structural supports of your home. Given enough time, they cause thousands of dollars worth of property damage over time.
Here are a few professionally vetted ways of preventing termite damage around Hackensack homes and businesses:
Spraying all household wood and structural supports with anti-termite products (professionally applied by a company such as Amco Pest Solutions).
Reducing the amount of moisture that is inside or around the home. Use dehumidifiers to get rid of chronic concerns, and ensure there are no clogged drains or leaky pipes in the home.
Store all firewood cords at least 25 feet from the sides of the home. Whenever possible, remove additional soil to wood contact in the yard. This includes landscaping or mulching.
Still worried about termite damage around your Hackensack property? Amco Pest Solutions can help. Schedule an initial termite inspection with our team to confirm your suspicions, and create a holistic plan that leaves the smallest possible impact on your household. We are looking forward to serving you well!
Commercial Pest Control In Hackensack, NJ
Amco Pest Solutions offers commercial pest control plans to businesses of any size or experience. We strive to be a one-stop-shop for all your pest questions and prioritize your needs above all else. Every commercial pest control service from our company comes with these helpful additions:
Thorough inspections that scout and secure your entire property.
Treatments that wipe out all traces of current pests.
Exclusion and mitigation services to prevent pests from returning.
Follow-up visits and checkups that ensure your ongoing safety.
Put your business name on our company's roster. Submit an online contact form to Amco Pest Solutions at a time convenient to you.
Schedule Your Free Inspection
Complete the form below to schedule your no obligation inspection with Amco Pest Solutions.