Iselin, New Jersey Pest Control
One of the tensest debates among New Jersey residents is if there is a central Jersey. And in the case that there is one, Iselin would fall into it as a part of Middlesex county. However, many Iselin residents will disagree. Whether you disagree or not, the one thing everyone can agree on is that pests can ruin living in any part of the state. This is why Amco Pest Solutions is here to help Iselin residents and business owners.
Amco Pest Solutions has been a leader in the pest control industry for decades with our continuing education of our pest control specialists, use of innovative products and technologies, and dedication to serving New Jersey residents and business owners. Getting started with exceptional pest control services in New Jersey is as easy as contacting the processionals at Amco Pest Solutions. With a wide variety of pest management services, we are sure to have what you need to feel safe in your Iselin home or business.
Home Pest Control In Iselin, NJ
Pest control is just as important as installing a security system. Not only does pest control provide relief from active infestations, but it can also be preventative. Preventative measures can provide you with peace of mind, knowing your Iselin property has a barrier against pests.
Iselin Residential Pest Control
You can do many things yourself to keep pests out of your home, including regular cleaning, making sure there are no leaks on the property, and performing proper lawn care. But you might find that you need more protection, and that is where Amco Pest Solutions plans come in:
Our Home Protection Plan is designed to meet the needs of the season. Pests that are covered by this plan include cockroaches, mice, silverfish, centipedes, millipedes, sowbugs, earwigs, pantry pests, house ants, pavement ants, slab ants, hornets, yellow jackets, and wasps.
The Convenience Plan gives you all of the protection stated above and covers carpenter ants, stinging insects, and the termite monitoring system. In addition, to maintain an active barrier, we will perform an intensive exterior power spray treatment every other month.
While our Convenience Plan Plus offers coverage for the pests above, it also includes an all-inclusive termite protection plan, carpenter ants, carpenter bees, mice, and all stinging insects. In addition, you'll receive the same intensive exterior power spray treatment every other month and five emergency visits between services.
Don't overlook the value of regular home pest control services. Learn more about the services provided by Amco Pest Solutions by contacting us and talking with one of our expert technicians. Then, you'll be able to rest easy knowing you're safe from pests!
What Should I Do If I Have A Skunks On My Iselin, NJ Property?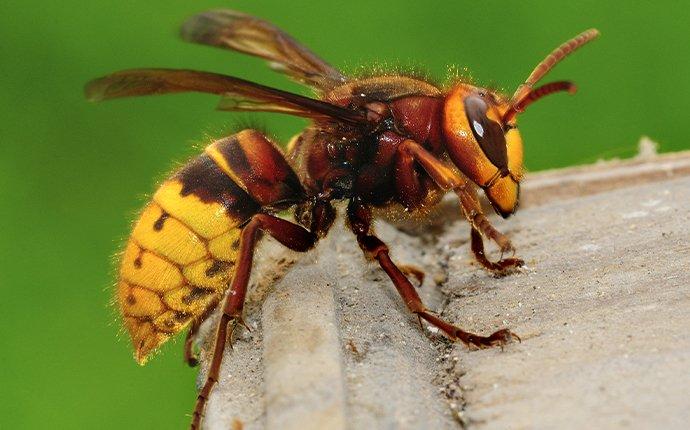 Skunks are famous for the terrible odor they emit when threatened. If there is one thing we know, it's that you don't want your property smelling like skunk. Remember, skunks are wildlife, and not only do you have to worry about the odor when it comes to skunks, but you have to be aware that they are unpredictable. Approaching any wildlife on your property is never smart and often dangerous, so what should you do if you have skunks on your Iselin property?
The answer is simple, call in the pros from Amco Pest Solutions. Our wildlife control process includes six steps that will keep you and your family safe from skunks on your property.
Inspection and analysis will help determine the scope of the problem. This will help our technicians to customize a plan just for you.
Trapping and removal can be tricky, but our team will set the traps in safe locations for your family and regularly check them.
Sanitizing and deodorizing is an important step in the process to keep you safe, as wildlife can spread dangerous pathogens. We use biodegradable sprays to treat necessary areas.
Our specialist will do damage repair rather than you having to find another contractor to do the job.
Proofing and exclusion are necessary steps to make sure the wildlife doesn't come back. These services include installing chimney caps, roof vent covers, new crawlspace doors, crawlspace vent covers, and the Critter Proof Gutter Protection System.
Insulation damage replacement will be done using treated cellulose insulation to protect your home against pests.
For more information and recommendations from the QualityPro Certified technicians at Amco Pest Solutions, give us a call or fill out the contact form on our website. We are ready to assist you at a moment's notice!
Four Signs Bed Bugs Have Invaded Your Iselin, New Jersey Home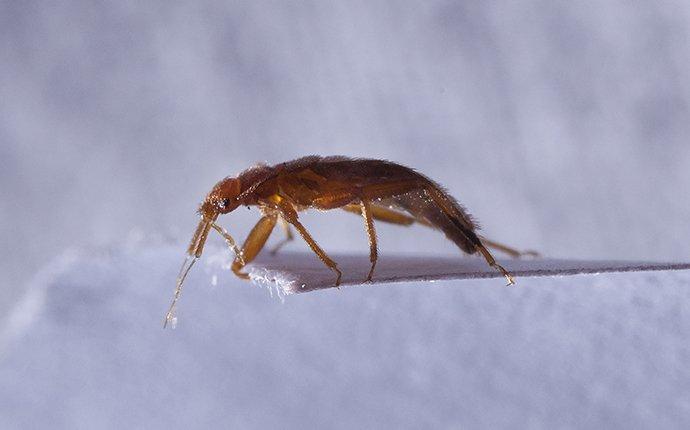 Bed bugs are not easy to catch because they are nocturnal and are masters at hiding, so even if they are in your home for some time, they might go unnoticed. But because bed bugs can affect any home, not just ones considered "dirty," you should know how the signs of a bed bug infestation in your Iselin home:
Small red bites on yourself or others, usually in a cluster around the ankles, arms, and neck.
Spots of blood on your sheets or bedding from the bed bugs feeding.
Fecal staining from the bed bugs on your sheets that is rust-colored.
A musty odor caused by secreted hormones from bed bugs.
To learn more about bed bugs, how to prevent them, and how to get rid of them, contact the experts at Amco Pest Solutions. So don't let the stressful experience of a bed bug infestation take over your life; contact us today!
Commercial Pest Control In Iselin, NJ
Keeping your Iselin commercial property protected against pests is no easy task. You can't be expected to wear the hat of a pest control expert when you already have so much on your plate. Luckily, the professionals at Amco Pest Solutions will wear that hat for you.
Iselin Commercial Pest Control
Many commercial properties benefit from routine preventative pest control services. Depending on size, location, and business, a commercial property can be challenging to maintain and can unintentionally provide the perfect conditions for pests. To prevent this from happening, you can trust the professionals at Amco Pest Solutions because:
We have several decades of commercial pest control experience and treating pests specific to the area.
Our specialists are highly trained, fully certified, and well-versed in industry-specific treatments.
We offer weekly, bi-weekly, or monthly services to choose from.
Our plans are customizable to meet industry standards, regulations, and laws.
We use Integrated Pest Management (IPM) techniques to make sure our customers receive the highest quality treatments.
Don't wait to get assistance with commercial pest control for your property. Amco Pest Solutions will do the work of keeping your business safe so you can focus on other areas that need your attention. Contact us today to get started!
Schedule Your Free Inspection
Complete the form below to schedule your no obligation inspection with Amco Pest Solutions.