Middlesex, New Jersey Pest Control
I
What could be more New Jersey-esque than the city of Middlesex? Hidden away at the northeastern elbow of namesake Middlesex County, over 10,000 people believe there is no better place to live, work, or play. Celebrities also love the upbeat and friendly culture that Middlesex has to offer, including professional wrestler Rocco Rock and photojournalist Margaret Bourke-White. If you are looking for a great place to raise a family, enhance your professional career, or simply kick back and retire, the city of Middlesex is right for you. What this town cannot offer you, unfortunately, is an escape from the harsher realities of New Jersey life. This includes pests and their infestations
Every home and business owner in Middlesex is subject to pests of all kinds, from roaches and skunks to fleas and bed bugs. There's no telling how, why, or where these pests will emerge. Without professional pest control options, Middlesex property owners have to fend for themselves. Over the past 80+ years of being in business, the team at Amco Pest Solutions has recognized Middlesex's need for professional pest management options. Today, we provide residential, commercial, and specialty pest management alternatives that protect your space all year long. Invest your property in good hands. Call the Middlesex branch of Amco Pest Solutions to get started on a unique treatment solution.
Home Pest Control In Middlesex, NJ
Residential pest control from Amco Pest Solutions comes in three exhaustive plans for easy confirmation.
The Home Protection Plan covers more than three dozen pests.
The Convenience Plan offers protection against termites and carpenter ants.
The Convenience Plan Plus brings everything to the table, from carpenter bee control to complete termite coverage.
Choose the right residential pest control plan for you by submitting an online contact form.
What Brings Skunks To Middlesex, New Jersey Properties?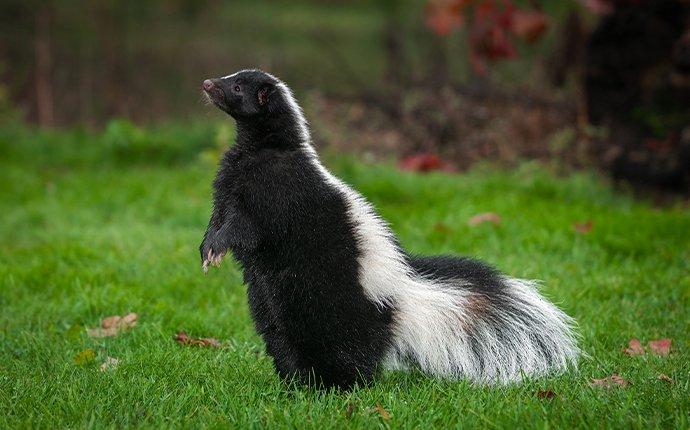 Wildlife creatures are very much still alive here in the Middlesex area. Despite the 'concrete jungle' that characterizes life in Middlesex, this city is still subject to attacks from raccoons, opossums, and even skunks. Skunks are misunderstood wildlife animals that rarely if ever come out during the day. As nocturnal animals, their primary objective is to sneak around your yard without being seen.
But why do skunks bother to come near Middlesex properties in the first place? Here are some reasons why:
Skunks are omnivores like raccoons and opossums. If you have lots of unsecured garbage or food waste around your property, they are likely to drop by for a quick snack or three.
Stagnant pools of water allow skunks to refresh and rehydrate without much effort. If you keep koi ponds, birdbaths, or potholes in your backyard, you may be unintentionally attracting thirsty skunks to the premises.
Some animals, including skunks, enjoy hiding in lush greenery and dense outdoor vegetation. If your yard is looking a little overgrown, it may be a beacon to weary skunk travelers all over the city.
There may be other reasons for skunks to be skulking around your Middlesex property. If you think that there may be a potential vector hunting around your home or business, you will need to address things ASAP. Not only are these pests capable of attacking humans, but they are perfectly prepared to hose you down with noxious spray. Control Middlesex skunk populations by relying on the team at Amco Pest Solutions. Call today to get a helpful wildlife inspection.
Bed Bugs: What Middlesex Residents Ought To Know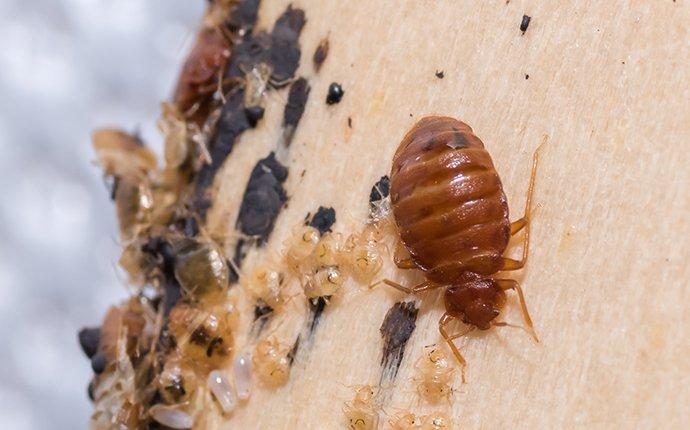 Bed bugs are becoming some of the most populous pests in the New Jersey area. Here are three things you ought to know about the bed bugs of Middlesex:
1. Bed bugs have not been confirmed to spread any diseases. However, they are certainly capable of causing insomnia, anemia, and in some cases, secondary infections from scratching and bleeding.
2. Although it gets repeated from many disreputable sources, bed bugs do not only infest 'unclean' or 'dirty' homes. Instead, these opportunistic pests infest wherever and however they can.
3. Bed bugs are visible to the naked eye. These pests are about ¼ of an inch long, dark brown, oval-shaped, and nocturnal in nature. If you are not sure about your identification skills, contact Amco Pest Solutions for a helpful bed bug inspection.
Get bed bugs out of your house for good by contacting the team at Amco Pest Solutions. We're ready to begin bed bug treatments at any time.
Commercial Pest Control In Middlesex, NJ
At Amco Pest Solutions, we believe that all commercial pest control should be designed with the end client in mind: your customers! That's why our discreet programs offer advanced pest control to all industries in Middlesex, including:
Office buildings
Healthcare facilities
Warehouses
Restaurants
Educational buildings
Confirm your choice of a commercial pest control plan. Contact Amco Pest Solutions for a free estimate.
Schedule Your Free Inspection
Complete the form below to schedule your no obligation inspection with Amco Pest Solutions.