Phillipsburg, New Jersey Pest Control
The town of Phillipsburg, NJ is a natural beauty. With the Delaware River running along our eastern border, we've got a pleasantly humid climate with substantial levels of moisture and precipitation. These conditions lead to an increased level of pest activity, meaning your Phillipsburg property is extremely vulnerable to an infestation. To protect yourself from the dangers of pest infestations, you need help from the professionals.
Amco Pest Solutions has your back! We are a full-service, family-owned and operated business that has been servicing Warren County and communities throughout New Jersey for over 80 years. Since 1935, our team of pest experts has worked hard to protect local homes and businesses from the dangers of pest activity. Not only are we members of the NJAA, NPMA, and CAI, but we're a QualityPro certified company. We uphold a high standard of service, bringing every single customer quality, excellence, and integrity. Give us a call today to get your free inspection on the calendar.
Home Pest Control In Phillipsburg, NJ
Between the rolling hills, the flowing river, and the woodlands, Phillipsburg is a beautiful place to live. If you're a Phillipsburg resident, your property is unfortunately at risk for pest infestations. Nuisance pests are eager to get inside of your house to access food, water, and shelter. Once they get in, they can be very difficult to eliminate. That's why professional pest protection is your best option.
Amco Pest Solutions offers comprehensive residential pest control services which include:
Inspection
Interior and exterior
Problem areas and conducive conditions
Crawlspaces, beams, cracks, crevices, etc.
Treatment
Attic insulation
Crack and crevice treatments
Crawlspace encapsulations
Exterior foundation perimeter
Granular lawn treatments
Residual sprays
Sand spraying of baseboards
Follow-Up
Monthly, bi-monthly, quarterly options
Detailed reporting
Emergency services
Seasonal maintenance
Our team uses the most innovative treatment methods and up-to-date technologies to treat your property from the inside out. All of our pest solutions are safe for your home, your yard, your children, and your pets because we know the importance of protecting the ones you love. We also offer emergency and same-day services, because we know that pest activity happens around the clock. We're there when you need us. Contact us to discuss your residential pest control needs.
Common Stinging Insects Found
In Phillipsburg, NJ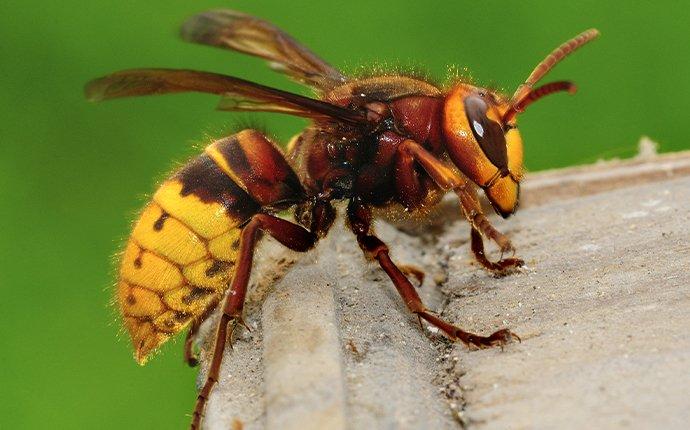 The state of New Jersey is home to a variety of common stinging insects. When stinging insects feel that they or their nest is in danger, they will attack. If you have an allergy to any of these insects, their sting can become serious and require attention from a medical professional.
Some of the most common stinging insects in the area include the following:
Bees
Hornets
Mud daubers
Wasps
Yellow jackets
One of the most important things to remember when it comes to stinging insect control is that you should never try and handle the situation by yourself. Never attempt to remove a nest on your own, as this can be extremely dangerous without the necessary safety gear and professional equipment.
To protect your property from stinging insect activity, call the team at Amco Pest Solutions. We're ready to help.
Do Not Ignore These Bed Bugs Warning Signs In Phillipsburg, NJ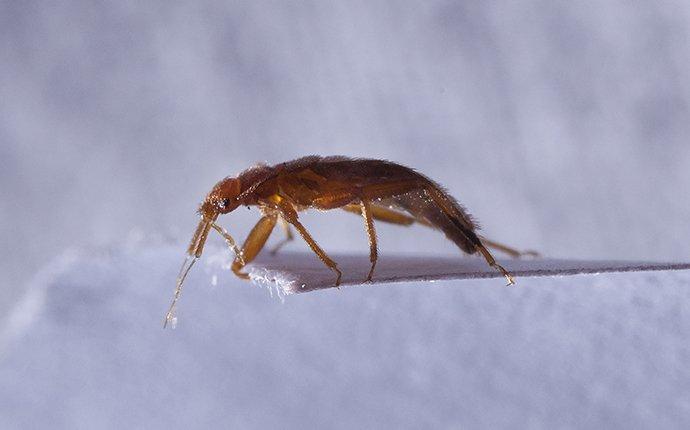 A bed bug infestation can happen quickly, and it usually goes undetected for significant periods. It's hard for us to catch bed bugs, because they're only active at night while we're asleep.
Pay attention to the following signs, which are likely indicative of a larger bed bug problem:
Finding eggshells and shed skins around common bed bug hiding areas
Red blood spots that stain linens and bedding while bed bugs feed on the blood of their host
Rusty brown excrement spots on linens, bedding, clothing, mattresses, and walls
Waking up with a linear formation of little red bites that you didn't go to sleep with the night before
If you detect any of these signs, you should contact the team at Amco Pest Solutions right away. We offer comprehensive bed bug control services that you can rely on to keep your property safe, healthy, and bed-bug-free. Call us today to schedule your free inspection.
Commercial Pest Control In Phillipsburg, NJ
Whatever type of business you may be running in Phillipsburg, you need to protect your facility from pest activity. An infestation puts your entire operation at risk. It threatens your reputation, your inventory, your employees, and your customers. It can cause large-scale property damage that can become costly and overwhelming. Needless to say, you need protection from the pest professionals.
Amco Pest Solutions offers commercial pest control services that provide year-round coverage from common pests, such as:
Ants
Bed bugs
Cockroaches
Fleas
Rodents
Spiders
Stinging insects
Termites
Ticks
Wildlife
Once our team of licensed pest technicians identifies the problem, we work together to develop the perfect treatment plan for you and your business. Through the use of our effective IPM (Integrated Pest Management) strategies, we target the problem at its core and eliminate all pest activity, putting in place the necessary structural modifications to keep them out for good. Reach out to the team at AMCO today to schedule your complimentary inspection.
Schedule Your Free Inspection
Complete the form below to schedule your no obligation inspection with Amco Pest Solutions.