Rutherford, New Jersey Pest Control
Rutherford, NJ is a Bergen County gem. There's so much to do, so much to see, it's no wonder why we get visitors from near and far. Between the Passaic River to our west and the Hackensack River to our east, we're surrounded by humidity and precipitation, meaning we're susceptible to pest activity. Nuisance pests aren't exactly the guests we want visiting, but they're waiting around the corner to gain entry into your Rutherford property, and you need professional pest protection.
Amco Pest Solutions is a family owned and operated business that provides full-service pest control solutions to homes and businesses across Bergen County and surrounding New Jersey communities. With over 80 years of experience in the pest control business, our highly experienced pest control technicians will provide an extensive inspection, elimination, and prevention of nuisance pests. We're here to protect you. Give us a call today to schedule your free inspection.
Home Pest Control In Rutherford, NJ
Rutherford is celebrated as one of the best places to live in New Jersey. Owning a home here is a dream come true. But what happens when nuisance pests invade your house? A pest infestation is a total nightmare, and you need year-round protection from the professionals. Amco Pest Solutions offers comprehensive residential pest control solutions that promise you a pest-free property.
Our home pest control services include the following:
Inspection
Interior and exterior
Problem areas and conducive conditions
Crawlspaces, beams, cracks, crevices, etc.
Treatment
Attic insulation
Crack and crevice treatments
Crawlspace encapsulations
Exterior foundation perimeter
Granular lawn treatments
Residual sprays
Sand spraying of baseboards
Follow-Up
Monthly, bi-monthly, quarterly options
Detailed reporting
Emergency services
Seasonal maintenance
Our team of educated pest professionals put the health and safety of you and your family at the top of our list. All of our treatments are safe for your children, pets, and loved ones, and we cater our approach to fit your specific pest needs. We're a QualityPro certified company and proud members of the NJAA, NPMA, and CAI. Quality, excellence, and integrity are at the foundation of what we do, so you can rest assured knowing your home is safe with us.
Avoid Tick Problems In Your Rutherford, NJ Property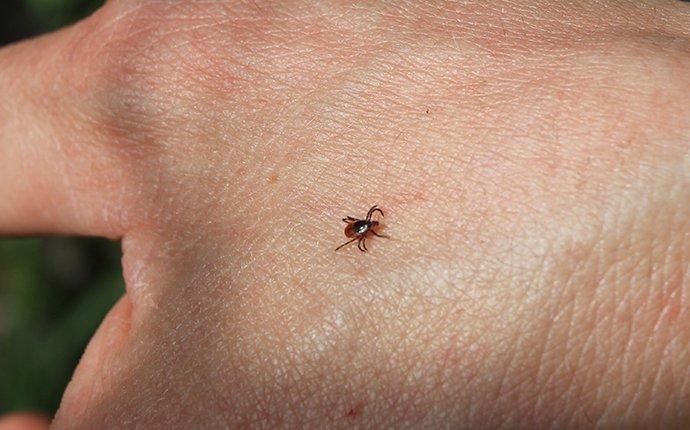 Ticks are parasitic pests that latch onto their chosen host and suck on their blood. The longer they go undetected, the further they burrow into your skin, and the greater your chances of contracting a tick-borne illness.
To protect yourself from ticks, try the following tips:
Check everyone (including pets) for any ticks after being outside.
Shower promptly after spending time outdoors.
Stay out of tall grass, brush, and wooded areas.
Treat your clothing with or buy clothing pre-treated with permethrin.
Tumble dry your clothing on high heat for ten minutes to kill off any ticks.
Use insect repellents before participating in outdoor activities.
Walk in the center of trails when walking, hiking, running, etc.
The prevention methods listed above can go a long way in keeping ticks away. Still, the most reliable form of tick control and prevention is professional services from the team at Amco Pest Solutions.
We perform thorough treatments that minimize tick populations on your property and protect you from exposure to these blood-sucking pests moving forward.
Three Signs Bed Bugs Leave Behind In Rutherford, NJ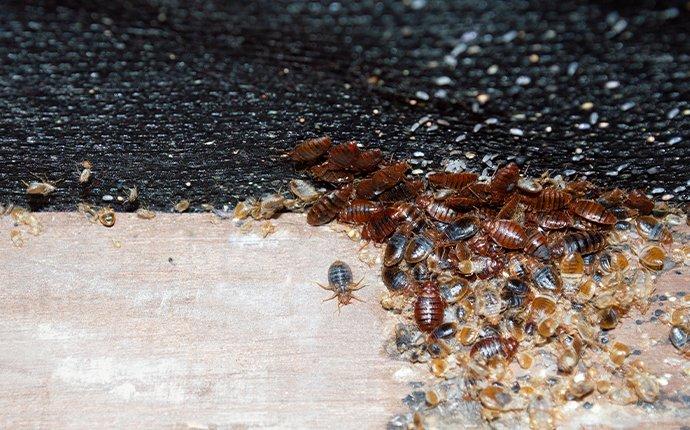 It's disconcerting to think about the fact that bed bugs feed on our blood while we're asleep. These nocturnal pests hide during the day and only emerge at night to feed. That means it can be extremely hard to catch bed bugs in the act, seeing as we're unconscious while they feed.
Pay attention to these common signs of bed bug activity:
Eggshells and shed skins around bed bug hiding areas
Rusty, dark excrement and fecal spots on your linens, mattresses, clothing, and walls
Tiny, red blood stains on your bedding and linens
If you detect any of these signs, it's most likely indicative of a larger infestation. The best way to deal with bed bug activity is to contact the professionals. Amco Pest Solutions offers comprehensive bed bug control treatments that exterminate these nocturnal pests from the premises, so give us a call today, and we'll schedule your free inspection.
Commercial Pest Control In Rutherford, NJ
Downtown Rutherford is genuinely one of the bright spots in our town. There are so many businesses and so many restaurants; it's hard to choose just one. With so much local competition, your business must maintain a positive reputation, and nothing threatens your good name like pest activity. An infestation threatens your bottom line in every way possible, and professional protection is the smartest way to go.
Our commercial pest control services provide full coverage from many common pests, including:
Ants
Bed bugs
Cockroaches
Fleas
Rodents
Spiders
Stinging insects
Termites
Ticks
Wildlife
Through the use of our IPM (Integrated Pest Management) strategies, we eliminate the pest problem from the inside out, covering every inch of your commercial property and leaving no stone left unturned. We use the most effective and up-to-date technologies to exterminate all pest activity and prevent infestations from occurring in the future. With our emergency and same-day services, you can feel confident knowing we've got your back 24/7. Give Amco Pest Solutions a call, and we'll get your complimentary inspection scheduled right away.
Schedule Your Free Inspection
Complete the form below to schedule your no obligation inspection with Amco Pest Solutions.