Somerville, New Jersey Pest Control
One of Somerville's many attributes is its historic buildings that are still in use today. From storefronts to restaurants, these buildings serve as a reminder to residents of the area's history and character, which is not found in many places. Still, these buildings are not immune to undesirable pests. From insects to rodents and wildlife, many types of pests can find their way onto or into your property. All it takes are the right conditions and the opportunity for them to do so. But you shouldn't have to share your Somerville home or business with unwanted critters.
Amco Pest Solutions is your one-stop-shop for all things pest control-related, including damage repairs. Our QualityPro Certified specialists use only the most sophisticated treatments and technology to ensure all pests are gone. Our goal is not only to provide effective services but to do it safely and efficiently. With Amco Pest Solutions, you can stop stressing about pests and the problems they cause and instead can go back to enjoying your property as intended. Contact Amco Pest Solutions by phone or by filling out the contact form on our website to get set up with a free inspection of your property. Pest-free living is right around the corner when you trust Amco Pest Solutions.
Home Pest Control In Somerville, NJ
Pests in your home put you, your family, and pets at risk as many pests can contaminate food, spread dangerous pathogens, and destroy property. Not only are pests health concerns, but they can cause thousands of dollars in damage and be the source of stress and loss of sleep. Don't let this happen; instead, hear about what Amco Pest Solutions can do for you.
Our Residential Control Process
Some pest control companies don't offer customizable plans but instead charge customers for general pest programs with unnecessary services. At Amco Pest Solutions, we only provide the services you need and at an affordable cost. However, our home pest control process will always include these crucial steps:
A free inspection of your entire property, both inside and outside, from the basement to the attic. Our technicians will pay close attention to crawl spaces, beams, cracks, and crevices that might be hot spots for pests.
After determining any current pest pressures and areas of concern, we will work with you to develop a tailored control plan to meet your needs.
Treatment will vary depending on your home but may include granular lawn treatments, exterior foundation perimeter treatments, residual sprays, sand spraying of baseboards, and crack and crevice treatments.
Follow-up visits will be based on your needs and can occur on a regular, recurring basis, either monthly, bi-monthly, or quarterly.
We typically place monitors around your property for early identification of active infestation, which will be checked regularly.
Don't hesitate to contact the experts at Amco Pest Solutions to keep your home and family safe from dangerous pests. Give us a call or fill out the contact form on our website to get started with a free inspection and assessment of your property.
How Do I Avoid Ants At My Home In Somerville, New Jersey?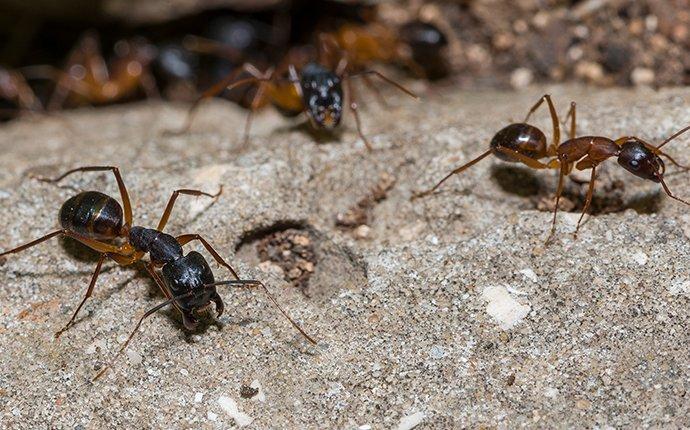 In Somerville, NJ, when the weather is warm, it might seem almost impossible to avoid ants while outside. But you should be able to avoid them in excess on your property and especially inside your home our business. To do this, implement the following:
Keep food in airtight containers, making sure to not leave anything out overnight, including pet food.
Take the garbage out frequently, clean bins regularly, and rinsing and recycling before throwing it away.
Seal all possible entry points in the walls and foundation of your property.
Make sure doors and windows have proper weather stripping, screens, and sweeps.
Sweep and vacuum regularly.
Receive assistance from professionals to create a preventative barrier around your property!
Want to know more about ants in the area? Give us a call at Amco Pest Solutions. Our trained and knowledgeable technicians are ready to answer your questions and get you started with a free inspection to assess the pest pressures on your property.
Three Bed Bug Prevention Tips For Homeowners in Somerville, NJ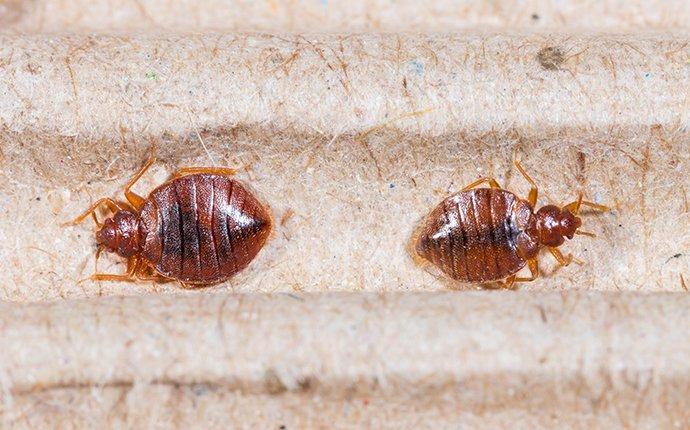 Bed bugs are many homeowners' worst nightmare. The thought of these tiny biting pests all over your home, where you should feel safe, is enough to make your skin crawl. Instead of worrying, you should take preventative measures from keeping an infestation happening in the first place. The professionals at Amco Pest Solutions recommend:
Inspecting all used and secondhand items before bringing them into your home. Secondhand goods are the most common way bed bugs get into a house.
Reducing clutter in your home; helps keep the property clean and limit possible hiding places for bed bugs.
Inspecting hotel and motel rooms before you put your bags down and never putting your belongings on the floor in a public place. Picking up bed bugs from [public spaces is another common way they get into homes.
For more tips about bed bugs, how to prevent them, and how to get rid of them, contact us at Amco Pest Solutions. Bed bugs are stressful, but we can help reduce that stress with a simple call to get bed bug services started. Call today!
Commercial Pest Control In Somerville, NJ
Keeping a commercial property safe from pests requires a different approach than that of residential homes. There is much more at stake with a business, including the health of employees and customers, the safety of products, and the status of reputation. Therefore, Amco Pest Solutions offers target services for commercial properties.
Our Commercial Control Process
Whether you are seeking services for an active infestation or wish to take preventative measures, Amco Pest Solutions can help. Either way, we understand that there is no one-size-fits-all treatment plan; each property has specific issues that need to be met. This is why our process includes the following:
An in-depth inspection to assess current pest pressures, possible entry points, and the factors attracting pests.
Using our inspection findings, we will work with you to create a tailored plan that meets your needs and keeps to industry standards, regulations, and laws governing your business. Services may include monitor placement, rodent control services, wildlife exclusion, odor elimination, fly control, and much more.
As a part of your plan, we will supply weekly, bi-weekly, or monthly services to keep your property safe and maintained.
Learn more about the commercial pest control services we offer and how we can assist you by visiting our website and talking to one of our pest control experts. Amco Pest Solutions is ready to assist you in keeping your business safe at a moment's notice. Contact us today!
Schedule Your Free Inspection
Complete the form below to schedule your no obligation inspection with Amco Pest Solutions.