Toms River, New Jersey Pest Control
Toms River, NJ is the county seat of Ocean County, and aptly located right on the shore. The proximity to the ocean means increased levels of precipitation and humidity, and while these conditions may make for a nice day at the beach, they're also a huge pest attractant. Nuisance pests are always trying to gain entry into your Toms River property, and the dangers of an infestation can be very serious. The best way to protect yourself is with regular pest control services from the professionals.
Amco Pest Solutions is at your service. We're a family owned and operated business that has been servicing Ocean County and local communities all over New Jersey since 1935. Our full-service company provides extensive residential and commercial pest solutions that local homes and businesses can count on. We're a QualityPro certified company that values excellence and integrity, and we don't stop until your property is entirely pest-free. Call us today to schedule your complimentary inspection. We also provide free estimates for our services, and we always customize our treatment plans to fit your needs.
Home Pest Control In Toms River, NJ
With the ideal location right on the shore and the friendly people of South Jersey, there are so many reasons to love living in Toms River. However, we're not the only ones who love it here. Sneaky pests are always close by, looking for food, water, and shelter on your property and inside of your home. Our superior home pest control solutions provide comprehensive coverage so you can keep your home and your loved ones safe.
Some of the services we perform include the following:
Inspection
Interior and exterior
Problem areas and conducive conditions
Crawlspaces, beams, cracks, crevices, etc.
Treatment
Attic insulation
Crack and crevice treatments
Crawlspace encapsulations
Exterior foundation perimeter
Granular lawn treatments
Residual sprays
Sand spraying of baseboards
Follow-Up
Monthly, bi-monthly, quarterly options
Detailed reporting
Emergency services
Seasonal maintenance
From our initial inspection through our seasonal follow-up visits, our team of pest technicians is highly educated and skilled in the world of pest infestations, and we promise to walk you through every step. When you partner with Amco Pest Solutions, you're choosing treatments that you can feel good about. We always prioritize the safety and health of your children, pets, and loved ones, and we also offer emergency and same-day services, because we know that when it comes to pests, there's no time to waste.
How Much Damage Can Carpenter Bees
Cause In Toms River, NJ?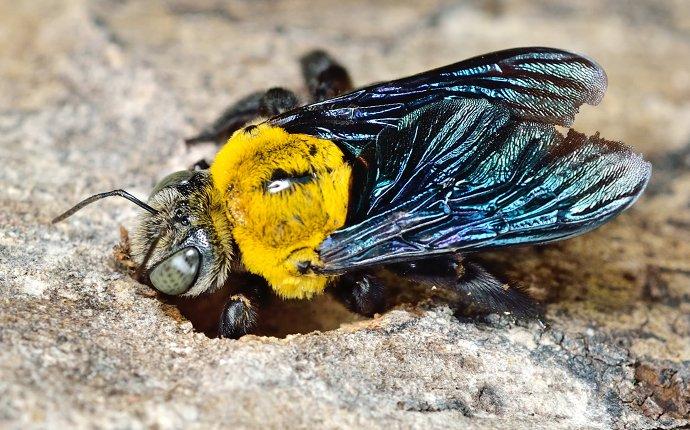 Bees, in general, are pests we all want to avoid – but what about carpenter bees, specifically, should we be concerned about? One of the main threats they pose is their ability to sting. Only female carpenter bees have stingers, and they usually only sting when bothered; this sting is similar to any other bee sting, but can become severe if you have a serious bee allergy.
You may see carpenter bees emerging out of wood. They like to burrow in unfinished wood and lay their eggs, which hatch into larvae. The sound of hatching larvae attracts woodpeckers, and woodpeckers are the ones that cause a lot of the carpenter bee-related damage.
Woodpeckers feed on the carpenter bee larvae, making holes and cracks in the wood to get to their nests. They poke their way inside of the structure and make a lot of noise trying to access their food source, so a lot of the carpenter bee damage you see on the outside of your home is really the work of woodpeckers.
If you're noticing the signs of carpenter bees around your property, partner with the experts here at Amco Pest Solutions to eliminate these pests from your property.
Five Practical Things You Can Do To
Avoid Bed Bugs In Toms River, NJ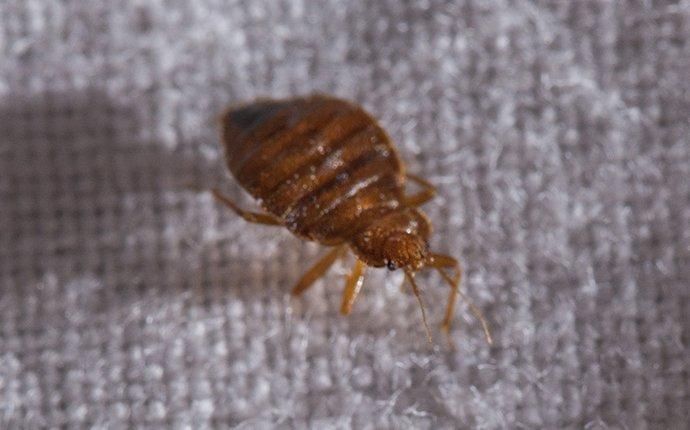 A bed bug infestation is a total nightmare that can turn your whole life upside down. Once bed bugs infest, they can be extremely difficult to eradicate. Being proactive is crucial when it comes to bed bug activity.
Here are some effective preventative measures you can take to reduce your exposure to bed bugs:
Apply mattress and box spring encasements to prevent any bed bugs from getting in or out.
Eliminate clutter and messes around your home.
Inspect all items for bed bugs before bringing them into your house.
Steam clean your upholstery and curtains, and vacuum under furniture.
Wash and dry all linens, bedding, and clothing on high heat to kill off any bed bug activity.
While these are all helpful tips, none of them are 100% effective in preventing a bed bug infestation. The most reliable protection against bed bugs is professional pest control services. Amco Pest Solutions offers extensive bed bug control solutions that will eliminate the infestation from your property. Contact us today to learn more.
Commercial Pest Control In Toms River, NJ
The community of Toms River greatly values and relies on all of the businesses in the area. Your business keeps the town running smoothly, but in order to do that, you first need to make sure your facility runs smoothly. Amco Pest Solutions offers complete commercial pest control services to a wide range of commercial clients, including schools, restaurants, healthcare facilities, government offices, and many others.
For over eight decades, we've been protecting businesses from a long list of common area pests, such as the following:
Ants
Bed bugs
Cockroaches
Fleas
Rodents
Spiders
Stinging insects
Termites
Ticks
Wildlife
We utilize the most up-to-date products and innovative technologies to bring you the best pest protection possible. Our IPM (Integrated Pest Management) solutions guarantee lasting results that you can depend on. Quality pest control is our goal, and we take that mission very seriously. We're proud members of the NJAA, NPMA, and CAI, and continue to dedicate ourselves to the health and safety of the community. Contact us today to hear more about our commercial pest services and how they can benefit and protect your business.
Schedule Your Free Inspection
Complete the form below to schedule your no obligation inspection with Amco Pest Solutions.