Brick Township, New Jersey Pest Control
Brick Township, NJ is your quintessential New Jersey town. Located in Ocean County, right by the water, we have all the beach town charm we could ever want. While increased moisture levels and humidity may make for a pleasant day outdoors, they also attract nuisance pests. Pest activity can quickly turn into an infestation, and that's why you need professional protection.
Amco Pest Solutions offers the best pest control solutions in the area. Since 1935, we've serviced home and business owners with residential and commercial pest control that they can count on all year long. We've been in the business for over 80 years, so you can feel confident knowing your property is in the best hands possible.
Home Pest Control In Brick Township, NJ
Owning a house in Brick Township has so many perks. We're right by the beach, the weather is breezy and humid, and everything is all around pleasant. That is until pests find their way inside. Your home is vulnerable to pest infestations, and you need year-round protection from the team at Amco Pest Solutions.
Our full-service business provides quality home pest control solutions that are always safe, always reliable, and always effective. Beginning with a thorough inspection, we develop the right treatment plan for you and your property and then return throughout the year for follow-up visits to make sure everything stays pest-free.
Inspection
Interior and exterior
Problem areas and conducive conditions
Crawlspaces, beams, cracks, crevices, etc.
Treatment
Attic insulation
Crack and crevice treatments
Crawlspace encapsulations
Exterior foundation perimeter
Granular lawn treatments
Residual sprays
Sand spraying of baseboards
Follow-Up
Monthly, bi-monthly, quarterly options
Detailed reporting
Emergency services
Seasonal maintenance
Using the most updated technologies and treatment methods, we treat your property from the inside out. Our educated service technicians prioritize the health and safety of your children, pets, and loved ones, so you can rest assured knowing you're in good hands. Contact us today, and we'll get your complimentary inspection on the books.
Common Stinging Insects Found
In Brick Township, NJ
Brick Township is home to a variety of stinging insects, and they can be dangerous if you're not careful. Stinging insects tend to swarm around their nests defensively if they feel threatened. If you have an allergy, their sting can become quite severe and must be treated by a medical professional.
Some of the most common species of stinging insects in New Jersey include the following:
Bees
Hornets
Mud daubers
Wasps
Yellow jackets
If you detect any stinging insect activity or suspect a nest on your property, you mustn't try and handle the situation on your own. Only professionals should handle nest removal and stinging insect control. The team at Amco Pest Solutions performs exterior treatments that eliminate stinging insects from your property entirely to protect you all year long.
How Dangerous Are Termites
In Brick Township, NJ?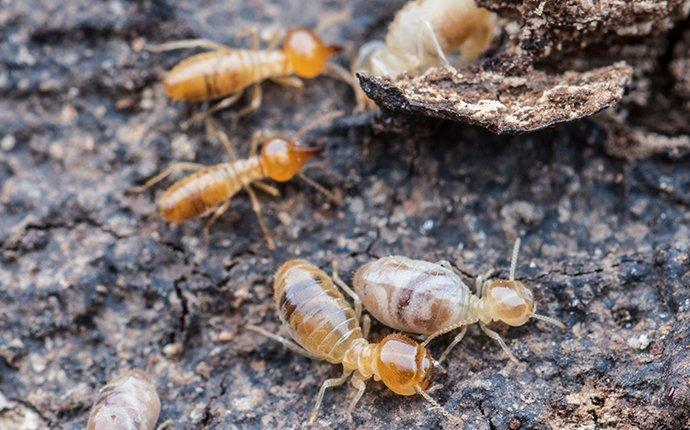 Termites are wood-eating pests that can cause large-scale damage to your property. As these destructive pests feed on water-damaged and rotting wood, they slowly erode the structure of your home and put you and your loved ones in harm's way.
The widespread damage termites cause is devastating. Not only does it threaten the safety of the people inside the structure, but repairs can become extremely costly. U.S. home and business owners spend over five billion dollars every year on termite repairs and prevention costs. That's a whole lot of money.
To make matters worse, most homeowners' insurance doesn't cover termite damage, meaning you're left to fend for yourself financially in the wake of large-scale property damage. It's much too overwhelming to handle alone, and the good thing is that you don't have to.
Amco Pest Solutions offers year-round termite control and prevention services that protect your property from these dangerous pests. Call us today to discuss your termite control needs.
Commercial Pest Control In Brick Township, NJ
Your Brick Township business relies on customer satisfaction. One bad review can put your entire reputation in danger, and when it's because of pest activity, it raises the stakes even more. A pest infestation is threatening to the health and safety of your property, employees, customers, and reputation.
Amco Pest Solutions offers long-term commercial pest control to a wide range of business – protecting them from a variety of common pests, such as the following:
Ants
Bed bugs
Cockroaches
Fleas
Rodents
Spiders
Stinging insects
Termites
Ticks
Wildlife
Our experienced team puts in place reliable IPM (Integrated Pest Management) strategies that comprehensively eliminate your property of all pest activity and conducive conditions. Excellence, quality, and integrity are at the forefront of our business, and we don't stop until our customers are satisfied with the results. Amco Pest Solutions is a QualityPro certified company, and proud members of the NJAA, NPMA, and CAI. Give us a call today to further discuss your commercial pest control needs.
Schedule Your Free Inspection
Complete the form below to schedule your no obligation inspection with Amco Pest Solutions.